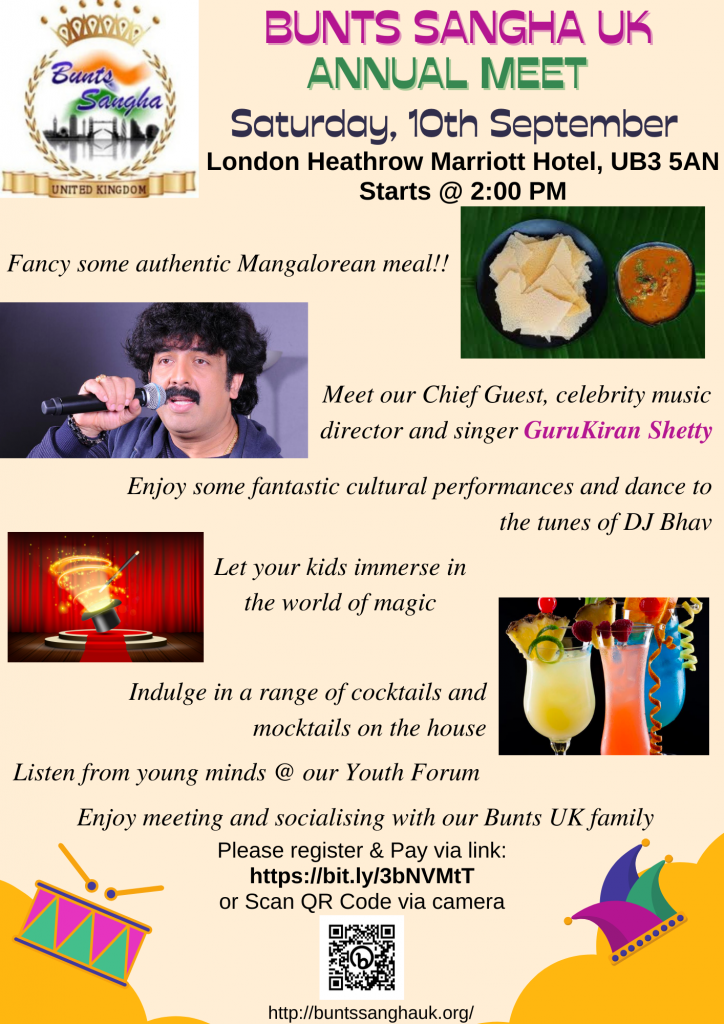 REGISTER IN 3 EASY STEPS:[1] Please pay Annual Meet entry fee
[2] Fill online registration form
[3] Book hotel room – This is optional (Link will be provided soon!)
[1] PLEASE PAY EVENT ENTRY FEE TO
Bank: Lloyds Bank
Account Name: Bunts Association UK
Account Number: 07338654
Sort Code: 30-97-13
Reference must include Name & Event (Eg:-FullNameAGM)
ENTRY FEE – EARLY BIRD OFFER UNTIL 3RD SEPTEMBER
Afternoon event + dinner
Afternoon event only
Members
Non Members
For both
£60
£70
£30
Kids 5yrs – 12yrs
£20
£25
£10
Below 5yrs
Go free
[2] REGISTRATION FORM
https://bit.ly/3bNVMtT
For details regarding membership fee please visit http://bunts.org.uk/membership/
[3] HOTEL ROOM BOOKING:[OPTIONAL]
Go to www.marriotthotels.com, click on Reserve Now and Enter hotel location i.e Heathrow and click 'Hotels'. and choose "LONDON HEATHROW MARIOTT HOTEL", HAYES, UNITED KINGDOM and enter dates you require ie., 10th Sept – 11th September.
Click on'Special rates' from the drop down select 'corporate/Promotional code' and enter code W14.
You will be provided with the list of hotels, Select "view rates" for the location you require.
Select Deluxe Room,Guest room,1 King and click on 'Select'. Now you will see you will have a limited time to complete reservation, Select 'Continue'.
Continue as guest and fill out the contact information and payment to complete.Or sign in to your existing account to complete.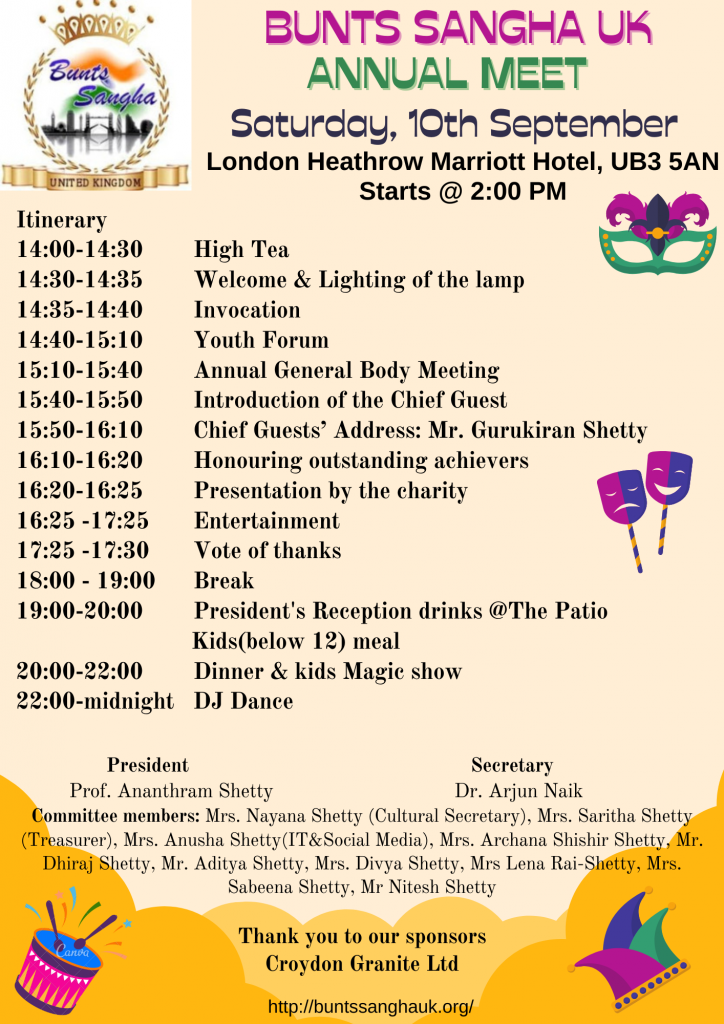 Nominations for the Next Committee
It is time to nominate a new President & Secretary for the next term, ie; 2022 to 2024. Please send in your nomination to info@buntssanghauk.org
Recognising outstanding achievers
We would love to recognise any outstanding achievers in our community at the Bunts Sangha Annual Meet in September. If you know anyone, Please send in their information to info@buntssanghauk.org
Advertising during the event
Members who wish to advertise their business during this year's events, please write to us at info@buntssanghauk.org before the end of August