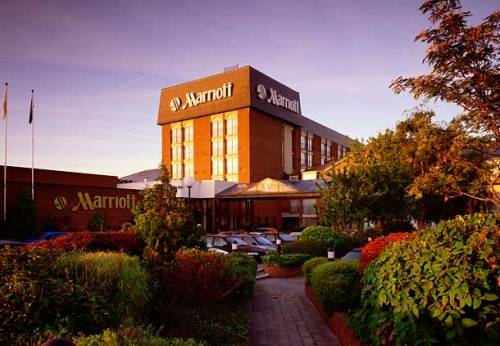 We are pleased to announce that Dr. Mohan Alva (Founder & Chair of Alva's Education Foundation, Moodibidri) will be with us to share some very motivating and interesting thoughts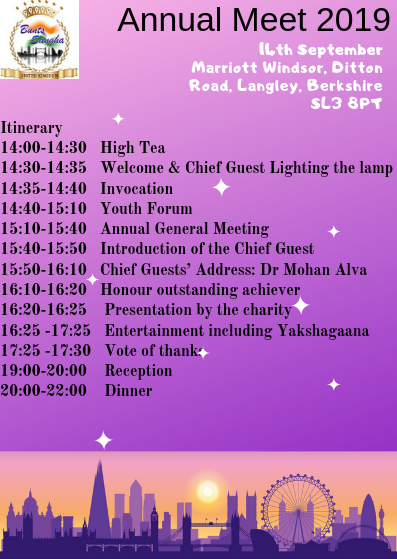 Nominations for the Next Committee
It is time to nominate a new President & Secretary for the next term, ie; 2019 to 2021. Please send in your nomination to info@buntssanghauk.org
Advertising during the event
Members who wish to advertise their business during this year's events, please write to us at info@buntssanghauk.org before the end of April 
[1] Fill online registration form
[2] Pay entry fee for the September Annual Meet
[3] Book hotel room using the links provided
———o0o——–
[1] REGISTRATION FORM
https://docs.google.com/forms/d/e/1FAIpQLScLBjtLY7sqae1E7QY8fiwFBivYukCp90uPLumi7rrcKJ2NDA/viewform
———o0o——–
[2] PAY EVENT ENTRY FEE TO
Bank: Lloyds Bank
Account Name: Bunts Sangha UK
Account Number: 07338654
Sort Code: 30-97-13
Reference must include Name & Event
SEPTEMBER ANNUAL MEET ENTRY FEE
Members/Families paying subscription fee
Non-subscribing members
Adults & children >12 years:  £45.00 per person
Children (4 to 12 years):  £15.00 per child
Children below 4 years go Free
Adults & children >12 years:  £50.00 per person
Children (4 to 12 years):  £20.00 per child
Children below 4 years go Free
———o0o——–
[3] HOTEL ROOM BOOKING:
Book Sheraton Hotel rooms by:
Clicking on the following link: https://www.marriott.com/event-reservations/reservation-link.mi?id=1553878033293&key=GRP&app=resvlink
For Date, select check-in date as well as check-out date. For eg; Sep 14, 2019-Sep 15, 2019.
To book a room for single or double occupancy please select number of occupants, ie; 1 or 2, followed by 'Classic Room' option.
To book a family room for 2 adults and up to 2 children, please select number of occupants as 2 (for 2 adults) followed by 'Family Room' option. Please leave 'No. of Children per Room' option as Zero. On the 

day

, Sheraton will allocate a suitable family room depending on the number of family members.
For queries call Sheraton Skyline on +442087592535
———o0o——–
WE LOOK FORWARD TO WELCOMING YOU ALL!
President                                                                     Secretary
Dr. Hamsaraj Shetty                                                   Dr. Lena Rai-Shetty
Committee members: Mrs. Nayana Shetty (Cultural Secretary), Mrs. Sheetal Shetty (Treasurer), Mrs. Hita Shetty, Mr. Santosh Rai, Mr. Prithvinath Shetty, Dr Ambika Shetty, Ms. Devina Rai, Mrs. Solme Shetty